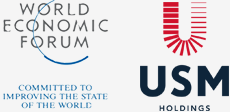 From July 2013 to February 2014 we were responsible for orchestrating USM Group's participation in the World Economic Forum in Davos. Among other things, we provided for the holding's representation. A temporary pavilion was set up and decorated in the center of Davos to house the representative office. The pavilion became one of the highlights of the forum and received high praise from both USM Group and other companies.
Another important and difficult task at Davos was to organize, together with WEF, a reception celebrating the start of the forum. We not only arranged this in excellent style, but made sure to feature Megafon's (a member of USM) corporate visuals.
HD Event Management project.